Beyond its reputation as one of the top beach destinations in the world, La Jolla is home to residents who enjoy beautiful coastline views, top-notch bars and eateries, unique boutiques, and a wide variety of outdoor recreational activities. During the majority of 2020 and the early part of 2021, La Jolla residents, as well as many Americans, were confined within the four walls of their own homes as a result of the coronavirus pandemic. Now, as restrictions are lifting, so many of us are itching to open our homes up to welcome our family and friends for a series of long-awaited reunions.

The pleasant months of summer present the unique opportunity to take advantage of your own backyard as an extension of your home's living space. As you prepare your home for the bright, sunshine-filled days of summertime, perhaps you are looking for some ways to inject some inspiration into your otherwise lackluster backyard. If so, then look no further than this helpful list of ideas to help create the perfect La Jolla oasis in your own backyard.


Add structure
When designing any living space -- whether it be indoor or outdoor -- it is imperative to establish a focal point that not only draws the attention of visitors but also acts as a conversation piece. What better way to add a focal point to your landscape design than a structure that is equally beautiful and functional at the same time? Let's take a look at some creative ways to add a built-in element to your backyard landscape that completes your outdoor living area.

Many Americans utilized innovation and creativity to re-invent the workplace as we know it due to the pandemic. Rising forth from this concept came the idea of the backyard as an office space. With many people forced to use their homes to simultaneously live, work, and play, it's no wonder why many turned to their own backyard as a space for escape.

Transform your backyard by adding a partially covered or covered porch that acts as the ideal setup to work from home. To do this, you'll want to consider ways to create shade to shield your laptop screen from the harsh glare, so add a physical roof structure, a cantilever umbrella, outdoor drapery panels, or an outdoor screen. Plus, once your exquisite outdoor hideaway has been established, you have the added bonus of using this space for a yoga studio or a quiet place to read and reflect.

Another relatively affordable way to create an irresistible living space in your backyard is to add a pergola. Pergolas add shade and architectural beauty to any backyard, and they are an incredibly inviting way for you and your guests to kick back and relax. Out of the innumerable benefits of adding a pergola, perhaps the most appealing is that a pergola can be assembled in just a couple of days. Add in the fact that pergolas can be embellished with fire pits, heat lamps, retractable shades, and fans, so there's no question that the idea of adding a pergola can't be beaten.

Finally, find out what all the craze for outdoor kitchens is about. In early 2021, the National Kitchen and Bath Association (NKBA) reported a shocking 60% of homeowners are looking to add an outdoor kitchen. Wow your guests with an outdoor kitchen structure that allows you to cook, entertain, and make memories under the stars. Not only do outdoor kitchens provide a welcome escape from being cooped up in your house all day, but they offer an opportunity for unique cooking elements, like grills, smokers, and pizza ovens. Add in other standard conveniences like a sink, prep space, and a refrigerator, and you are well on your way to a backyard showstopper that completes your landscape.
Go green
Another exciting way to prepare your backyard landscape for summer is to maximize your space by adding garden areas for specialized uses. There are so many reasons to start gardening beyond the simple benefits of nurturing and admiring flora and fauna, so let's take a close look at all the ways that adding gardens to your backyard landscape is an unbeatable way to prepare your home for summer.

First, boost your cooking prowess by creating a special garden area for growing herbs, fruits, and vegetables. This can be accomplished by installing raised beds or simple containers with proximity to the kitchen door for easy access when assembling salads or savory dishes. Not only do backyard gardens encourage added nutrition, bold flavor, and stunning color to each plate, but they are a fantastic way to cut back on your grocery bill each week.

If you love having fresh flowers at your fingertips, another type of garden to consider is a cutting garden. Think of this area of your backyard that is tucked away from your main landscaping and is exclusively used to harvest bright, beautiful blooms for breathtaking bouquets. Flower varieties that are great for this application are allium, dahlias, peony, zinnia. Keep in mind that this area of your backyard should receive six to eight hours of full sun per day, and the floral garden should be within close distance of a source of water.

Lastly, jump on board with one of the latest trends in backyard landscaping by creating a composting area. In San Francisco alone, the composting trend has helped to achieve an 80% decrease in trash being sent to landfills. Do your part in helping the earth by carving out a spot in your backyard for a compost bin. Take comfort in knowing that you are playing a small part in the greater effort to help the environment and that every other plant in your backyard is reaping incredible benefits from this natural superfood, as well.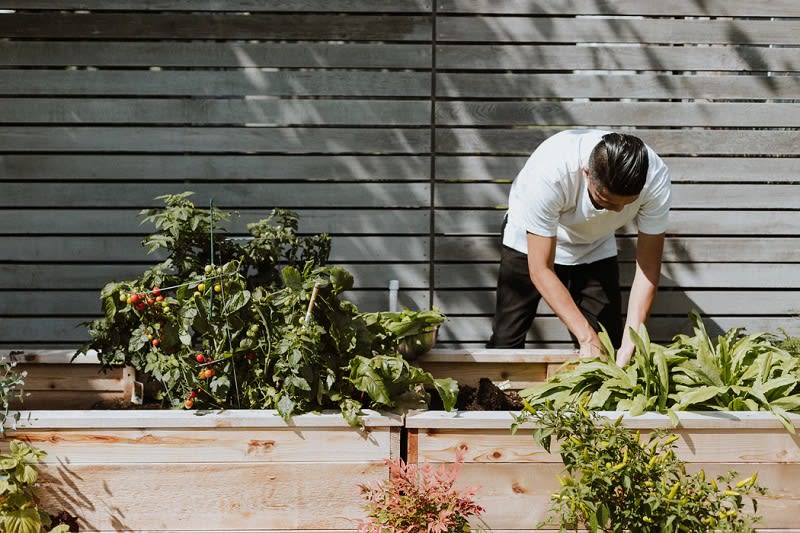 Don't forget the final touches
Now that your backyard landscape is both aesthetically pleasing and highly functional, it's time to add the finishing touches. While much of your time and energy is spent on selecting the plants, landscaping materials, and furniture that round out your design, some of the finer details should not be overlooked. Let's review some excellent ways to finish out your backyard landscape to perfection.

First, think vertically by selecting an area of your backyard to create a plant wall. Not only can a plant wall offer privacy and shade, but it is also a fabulous way to display your well-loved plants. The goal of many homeowners is to create a backyard escape that feels like just another room that extends from their home. A plant wall is a stunning backdrop for your backyard and adds a level of visual interest that can't be beaten. If a plant wall isn't your style, consider adding another similar feature wall with a mural or a tiled accent wall to create a similar effect.

With anticipation for an increase in outdoor entertainment this year, this means that lighting should be considered beyond what sunshine offers naturally. Luckily, there are a number of amazing lighting options, ranging from spotlights to outdoor chandeliers. Outdoor lighting applications should be arranged carefully so as not to overdo the number of fixtures, and they should be done in such a way that creates drama by highlighting areas of light and dark.

Lastly, take a step back and consider how effectively your outdoor living space acts as an extension of the interior of your home, as the mark of a highly successful backyard is seamless connectivity between the interior and the exterior. Achieve this by carrying similar flooring, natural elements, and fabrics throughout. With wicker and rattan furniture and decor making a comeback this year, tying these elements into your design could be a great chance to add similar touches both outside and in. Furthermore, it is prudent to consider how your backyard looks from each rear-facing room of the home. A successful landscape design means maximum beauty can be admired from each room.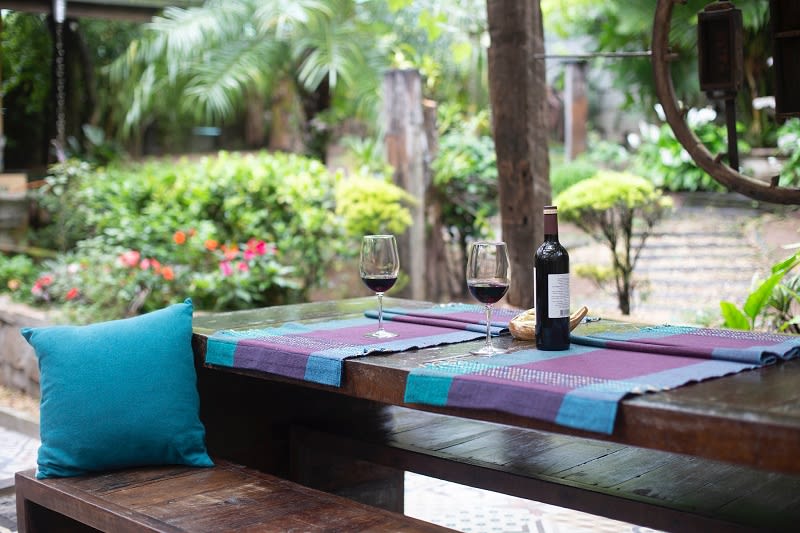 With so many ways to kickstart your summer by creating the ultimate outdoor oasis, there's no question that this summer is going to be one for the ages. By adding your personal touch to your landscape, that means that reunions with family and friends in your revamped outdoor living space are going to be unforgettable.

Do all of these ideas inspire you to begin searching for a La Jolla home with a magnificent backyard for you to call your own? The first step in your journey is finding a trusted, local real estate partner, and you should look no further than The Savory Group. Based in San Diego, The Savory Group is made up of exemplary real estate professionals that personally guarantee your La Jolla house hunting journey is an all-around success. Contact them today to get started on finding your La Jolla dream home.