We all love to indulge in our favorite foods from time to time. Who doesn't love a bowl of pasta, a perfectly-cooked steak, or a little pizza to soothe the soul? Whatever your reason may be for choosing comfort food, it's not always possible to create these delicious meals at home. Sometimes the easiest alternative to cooking at home can be to have your food prepared for you by your favorite restaurant. These San Diego restaurants will bring the food you're craving right to your door.
Square Pizza Co
Detroit, Sicilian, and Boston Beach pizza varieties all have their own unique subtleties, and it's rare when a connoisseur is able to enjoy all three types in the same place. The
Square Pizza Company
does just this, and just as the name implies, the pizza is prepared in squares, with square pieces. The restaurant can be found inside the historical Dunaway building, where customers have grazed upon their chosen style of pizza since 2016. Choose a regular, vegan, or gluten-free crust. Have a thin crust, or leave it thick as is traditionally found with Detroit and Sicilian varieties. If you're dining in a group, a large Detroit-style pizza will feed two to four people. Turn up the heat with the Firebird pizza which is topped with Frank's Hot Sauce marinated chicken, Calabrian chili peppers, Parmesan cheese, and buffalo sauce drizzle. They will deliver on their electric bike within a three-mile radius; otherwise, they partner with a contracted service.
Cross Street Chicken and Beer
Soothe your cravings for Southern fried food and Asian fare at
Cross Street Chicken and Beer
. The menu holds a traditional fried chicken in various forms including wings, sandwiches, or on top of a salad. Chicken wings and tenders can be found in flavors like Seoul Spicy, Chick Nashville Style, and Soy Garlic, as well as the featured seasonal flavor. Depending on the flavor you choose, you may want some complimentary slaw or pickled radish, both available upon request. Or, take a break from chicken and try the Korean staple, Kimchi Fried Rice (fried rice with kimchi, spam, peas, carrots, and eggs). For those who'd prefer to not eat meat, Cross Street does offer a plant-based chicken alternative, as well as items on their "Bites" menu, including fried vegetable dumplings, Cross Street fries, and corn cheese, a delectable serving of buttery corn with three kinds of cheese. Tip: Get a 2 oz serving of your favorite sauce to recreate the dish in your own kitchen! Order delivery through Toast Tab.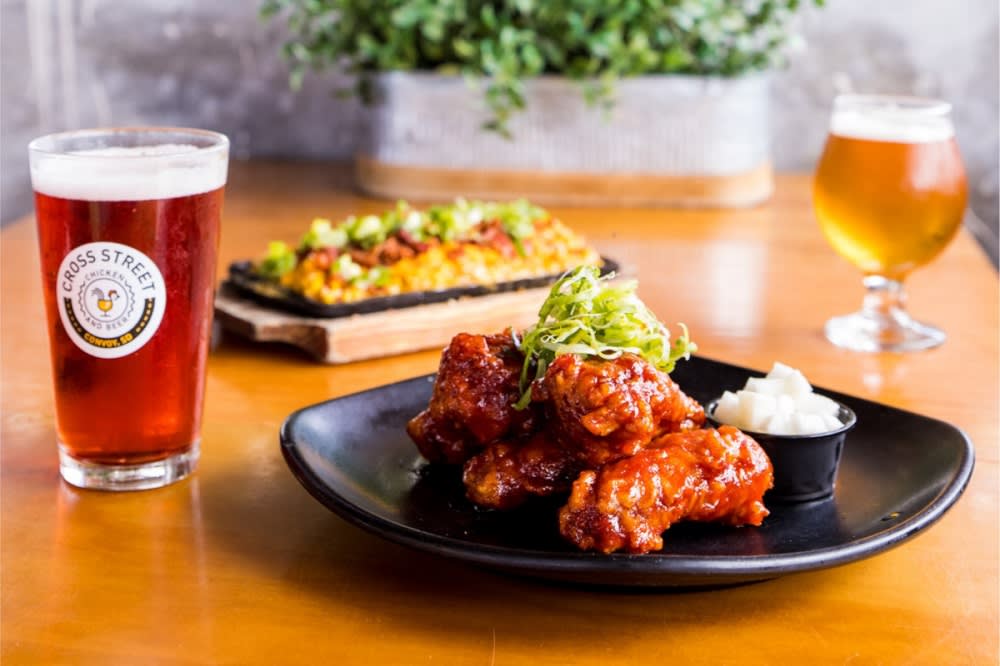 Credit: Cross Street Chicken and Beer
Rudford's Restaurant
On El Cajun Boulevard sits a restaurant that has welcomed customers into an All-American diner atmosphere for 72 years. John Thomas (Tommy) Rudford purchased the restaurant in 1949 and since then has worked to evolve the business through the best and worst of times. The food is old-fashioned, prepared from scratch, and has been the reason customers have returned time and time again.

Rudford's Restaurant offers patrons an extensive breakfast, lunch, and dinner menu consisting of hand-cut steaks, omelets, burgers, sandwiches, and desserts 24-7. A separate vegetarian menu offers a handful of meat-free meal alternatives such as veggie burgers, huevos rancheros, the Veggie Mix Up, and more. Don't leave your furry friend out when ordering! A four-item dog menu ensures your canine enjoys a little bit of Rudford's too! Order all your favorite dishes through DoorDash.
International Smoke
The brainchild of Chef Michael Mina and best-selling author Ayesha Curry,
International Smoke
is inspired by their love of global travel, cuisines, and cooking techniques. The restaurant offers a community-centered atmosphere where guests are free to visit and socialize with friends and loved ones in a comfortable, welcoming setting. Chef Mina has compiled a menu that features delicious eats such as wood-fired steak, seafood, ribs, and vegetarian entrees. There's a number of gluten-free options on the menu, and none of them lack flavor. Treat your palate to the Korean barbecue salmon covered in Korean chili glaze and toasted sesame seeds atop a bed of asparagus and a mushroom medley. Order the charbroiled Chilean sea bass for delivery Tuesday through Sunday from 11:30 am through 8:30 pm - 9:30 pm, depending on the weekday. The business prefers that you order delivery through them; however, they do partner with DoorDash, UberEats, and PostMates for their customer's convenience.
Credit: International Smoke
The Mission
With an emphasis on contributing eco-friendly, simple, healthy food with a whimsical edge,
The Mission
has proven itself a local favorite. Founded by the San Diego restaurateur trio Fay Nakanishi, Deborah Helm, and Thomas Fitzpatrick, The Mission opened the original Mission location in Mission Beach, perfected their technique, and expanded to the North Park location in 1998. Expect to find gluten-free and vegan options on their breakfast and lunch menus, such as the Mission Chilaquiles. Their roots run through the community in a number of ways, including donating to important local charities (City of San Diego Literacy Programs, Humane Society), hosting fundraising events to benefit areas of the local community in need, and continuing to provide support to the art culture of San Diego via displaying the creations of local artists. They ensure that upon sale, all proceeds go back to the creator. Though you can't immerse yourself in this experience when ordering food for delivery, you can still be proud of your contribution to the community through the support of the business. Order delivery through GrubHub every day from 7 am to 3 pm.
Lorna's Italian Kitchen
Founded in 1988 and serving dinner to the San Diego area for more than 30 years is
Lorna's Italian Kitchen
. Chef Steve and his wife, Lorna, who ran the front of house for the first five years, worked the restaurant together. They created an atmosphere where customers and staff felt welcome to come and share a meal created with love over one hot stove in a too-small kitchen. They expanded in 1993 and Chef Steve has since welcomed a new wife, Joy, who is the face of the front of house today. The current chef serves up a diverse menu with small plates, salads, chicken and veal entrees, seafood, pasta, and pizza options. Choose from a 12 or 16-inch pie in traditional flavors such as cheese and meat lovers, or sample a more unique offering, the Golden Triangle Special with fresh basil, garlic, broccoli, artichoke hearts, and ricotta cheese. Order your favorite desserts like cannoli and spumoni ice cream by the pint from Tuesday through Sunday from 4 pm to 8:30 pm.
Bay Park Fish Company
A major benefit to being so close to the ocean is the availability of fresh seafood, which is brilliantly showcased at the
Bay Park Fish Company
. Bay Park sources all of its seafood locally, offering customers a Catch of the Day item on the menu, which is delivered daily. This practice has earned them a reputation for having the freshest seafood in San Diego. Since it was founded in March of 2005, the restaurant has offered an amazing array of seafood dishes to suit an appetite. A sushi bar features fresh sushi, oysters, and ceviche. Feast on the Cioppino with fresh fish, mussels, clams, and shrimp simmered in chipotle, tomato, white wine, and garlic broth and served with a French baguette. The chicken piccata and taco plates are available for the rare few who'd prefer to eat something which isn't fish, and a kid's menu is available for small mouths who tend to be pickier. Call for lunch and dinner to be delivered seven days a week, with brunch available on the weekend. Utilize the Happy Hour specials for 20 percent off of appetizers and basic sushi rolls from 3-6 pm.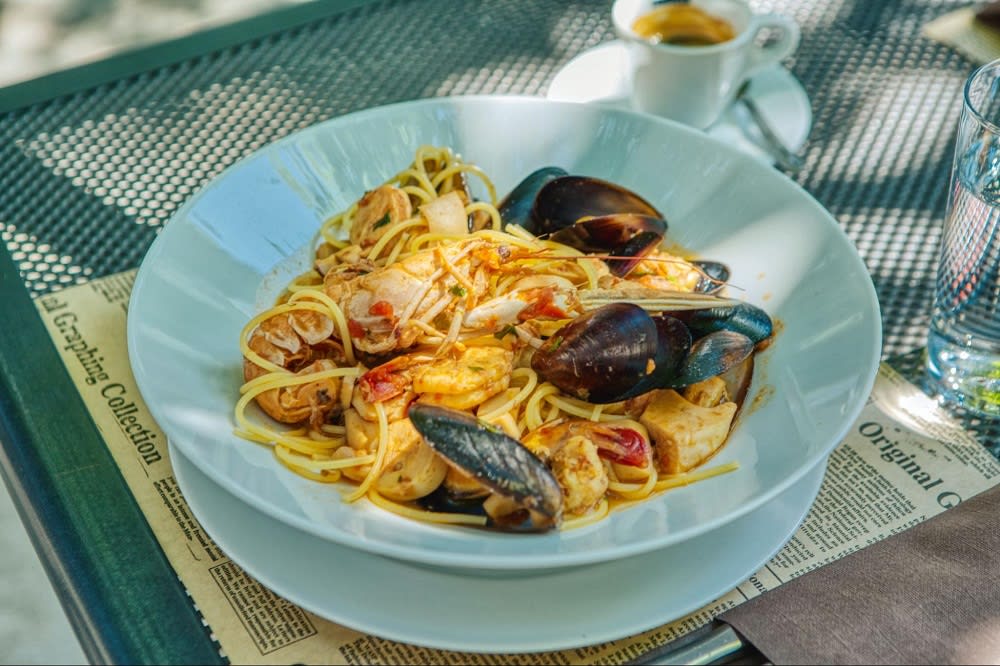 Any of these restaurants are a delight to visit in person, but sometimes life events get in the way and it's not an option. If you'd like to order delivery from any of these establishments but don't own a piece of Downtown San Diego real estate, now is the time to look into a new residence that will be better suited to your needs.
Contact a real estate agent
, like those at the Savory Group, who specializes in the area today, and find the house or condo of your dreams. Don't continue to spend all day browsing through the homes for sale in Downtown San Diego and find an agent which will hold your best interests in mind.